What we do …
Let us showcase what we are doing in a more comprehensible way by linking to some recordings here. They cover songs belonging to our repertoire. The videos have been recorded between 2012 and 2018 at different locations in Weilburg, Germany, one of them being the Lindencult theatre. Most of the 2014 to 2018 recordings were done there. Enjoy and if you like it: Like it and subscribe.
Seven Years Januar 2017 bei 'Bluegrass im Klosterhof'
It all started with bluegrass music. The songs and instrumentals typical for a bluegrass set are often traditional, descending from the 19th century. Some instrumentals even go beyond that time. Our recording of Joni Mitchell's "Big Yellow Taxi" was taken at the "Bluegrass im Klosterhof" event by the organizer Dieter Stoll in january 2017. That does not have to do much with bluegrass but fits into an acoustic setting neverthless.
Seven Years 2015 im Lindencult in Weilburg
Many contemporary songs go with an acoustic instrumentation very well and being arranged with our instruments neatlessly fit into the Seven Years sound. So there are several pop, folk and singer/songwriter songs in the Seven Years repertoire.
Seven Years Sommer 2012 in Weilburg, first gig as a trio – cought with a camera for still images, not the best sound quality.
Along with classical bluegrass songs and the music of modern bluegrass and Americana artists we play songs of Gordon Lightfoot, Simon & Garfunkel, Neil Young, Joni Mitchell, Wil Maring, Bob Dylan, Lennon und McCartney, Tim Hardin, John Denver, Gillian Welch or Mark Knopfler, to name a few of the composers. This list is not exhaustive.
Seven Years 2015 Lindencult – low resolution recording
The tools we use …
Our basic instruments are strictly bluegrass: Guitars, mandolin, dobro, double bass and harmony singing. But Uli introduces accordion, flute and harp as well, so we cover a wider instrumentation.

As can be seen on some of the featured pictures and recordings there are always quite a number of guitars around. Wy that ? Reason is that we utilize four different tunings: Standard tuning, drop-D, DADgad and open G. Switching tunings while on stage causes the tuning to go fundamentally bad after a while, making a longer tuning inevitable. These breaks are full of Reinhard's jokes, anecdotes and incomprehensible drivel. God knows why people keep laughing. "Announcements not always serious" the press writes about that. Only remedy is carrying a bunch of guitars with us one for each tuning.
Since we use to carry a lot of guitars with us people tend to get in to conact with us during or after show and do some guitar talk. Like magpies they raid Michael because of his silvery, shiny, glossy tin guitar, a National Style O.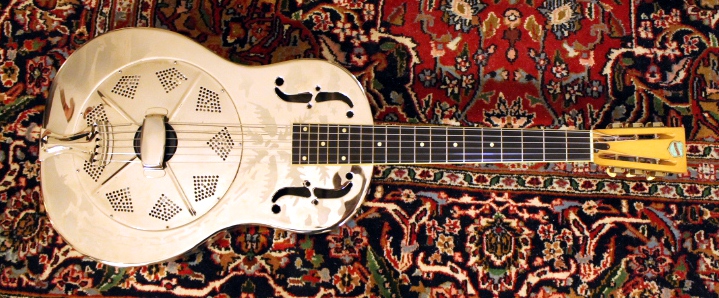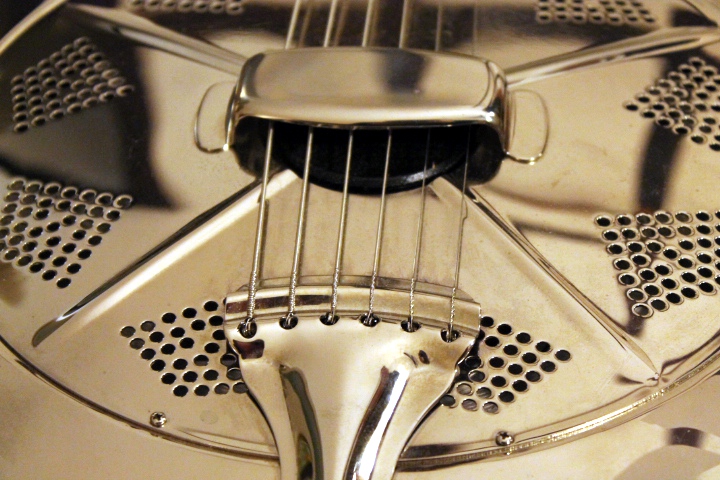 Inventor John Dopyera built guitars based on the resophonic principle that would be played like ordinary guitars. Their bodies were made of tin alloy and chrome plated. Some models had one aluminium cone built in, annother model three smaller ones. They are distinguished as "single cone" and "triple cone" models. These models, still avaliable today soon became common among blues and ragtime musicians. One of the best known artists using them until today in a traditional and at the same time new and unusual way is Mark Knopfler. Our setting comprises a National Style O made in a way this instrument has been built since 1928. Why, we feature some Mark Knopfler songs.
Among the standard bluegrass instruments there is annother kind of resonator driven guitars, called "Dobro", according to the Brand "Dopyera Brothers". Our arsenal comrises a Waechter Scheerhorn Elite Koa.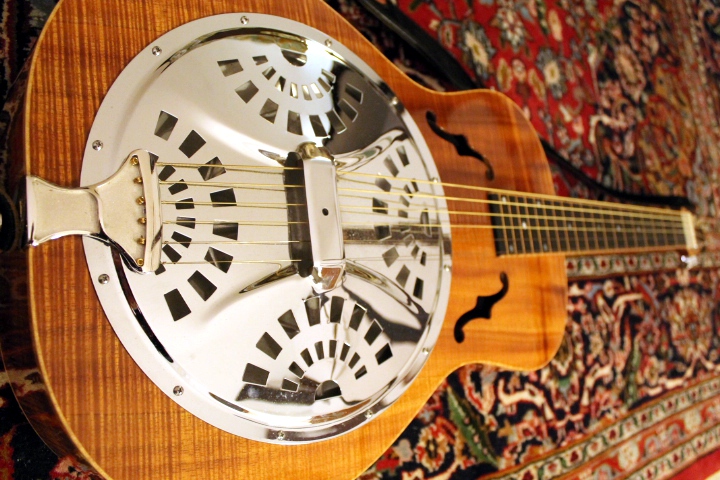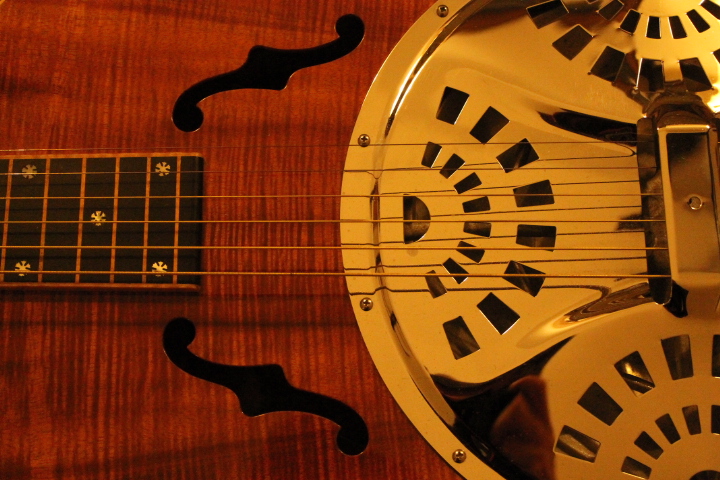 Of the people who start playing the guitar as kids or teenagers, 99 percent will quit sooner or later. The remaining one percent purely consists of fanatics. They strive for redundancy: One guitar is not enough. You may put it as a mathematical formula:
number of guitars needed= (number of guitars owned+ 1)
Reinhard lives according to that formula. So there is a lot of guitars. The exact number is not known, but some of them appear on stage with us on a regular basis: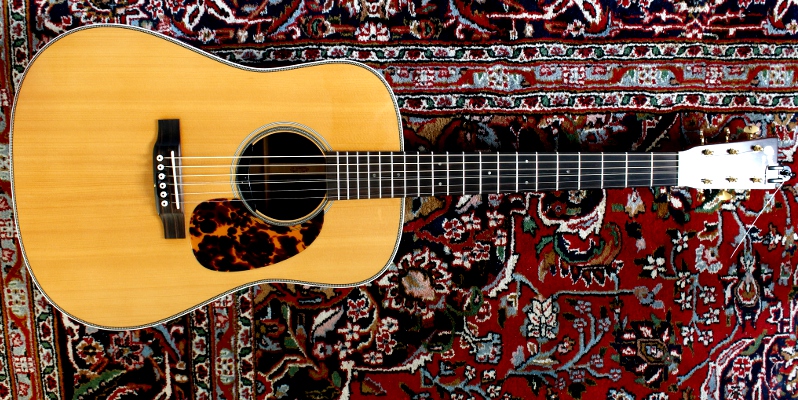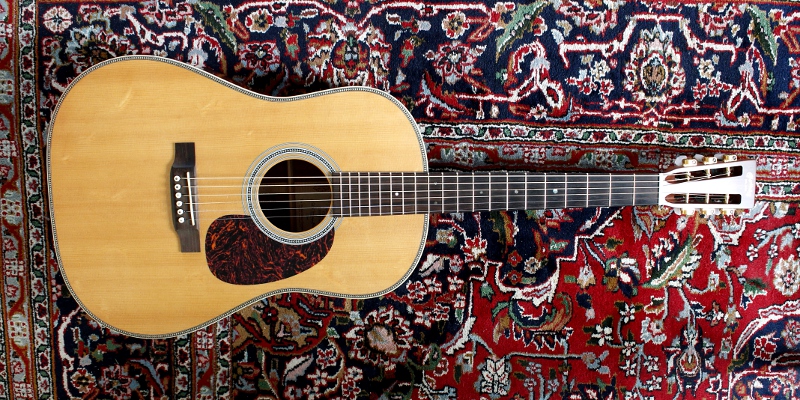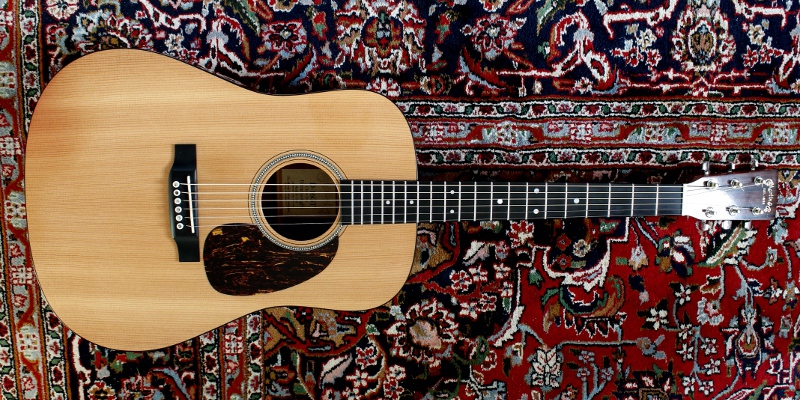 This makes the trunk of our car look like a guitar case rummage sale when we are on the road: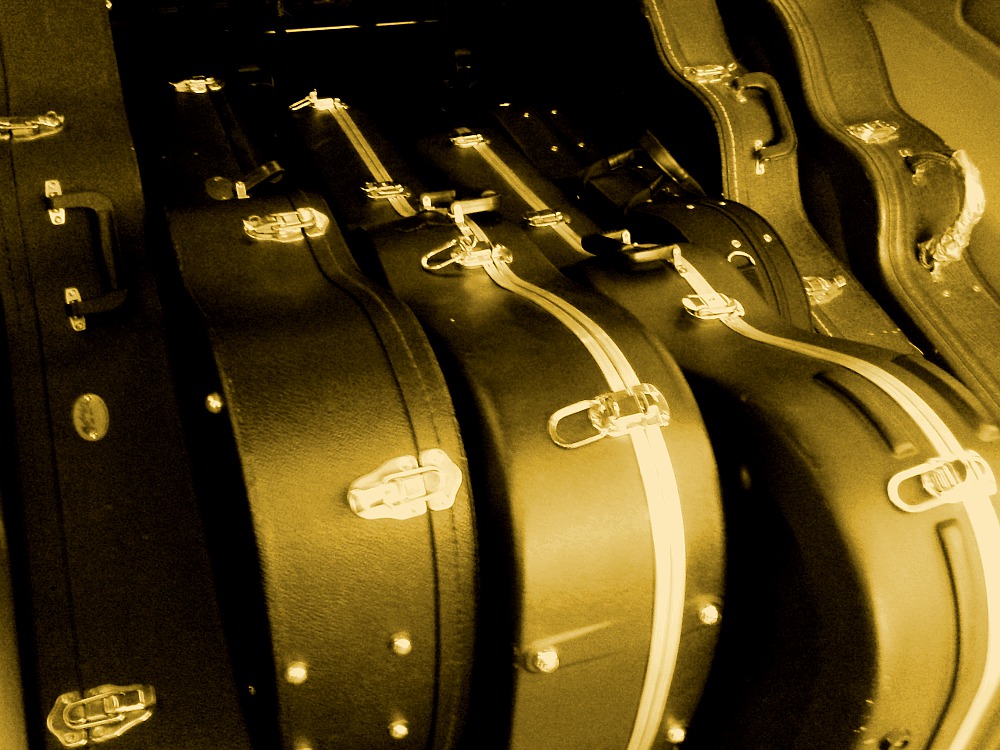 The mandolin must not remain unmentioned. Tuned the exact same notes as a violin the mandolin is used for percussive chords while accompanying and a melody machine while soloing.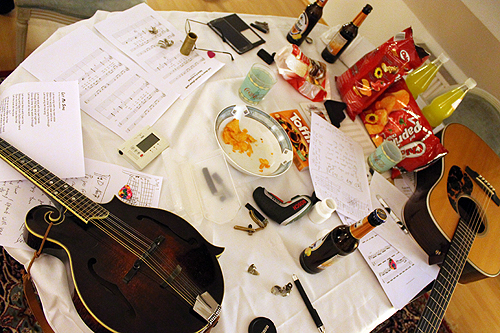 … what the press says to all this
"A Brilliant Two Hour Concert"
Gießener Allgemeine, 29.06.2018
"Delicately Performed Music shaped a crackerjack Concert"
Wetzlarer Neue Zeitung 05.12.2018
"Hessian Trio 'Seven Years' fascinated the crowd… "
Schwäbisches Tagblatt 16.01.2017
"Absolutely Captivating: The wonderful three voice harmony singing"
Wetzlarer Neue Zeitung 26.11.2018
"Announcements not always serious"
Wetzlarer Neue Zeitung aaO
But let's stay honest. There has been severe criticizm in the press. For one instance there were allegations that the music was OK but we neglected to introduce the band properly. Guess where that happened.
(No discrimination intended, just kidding)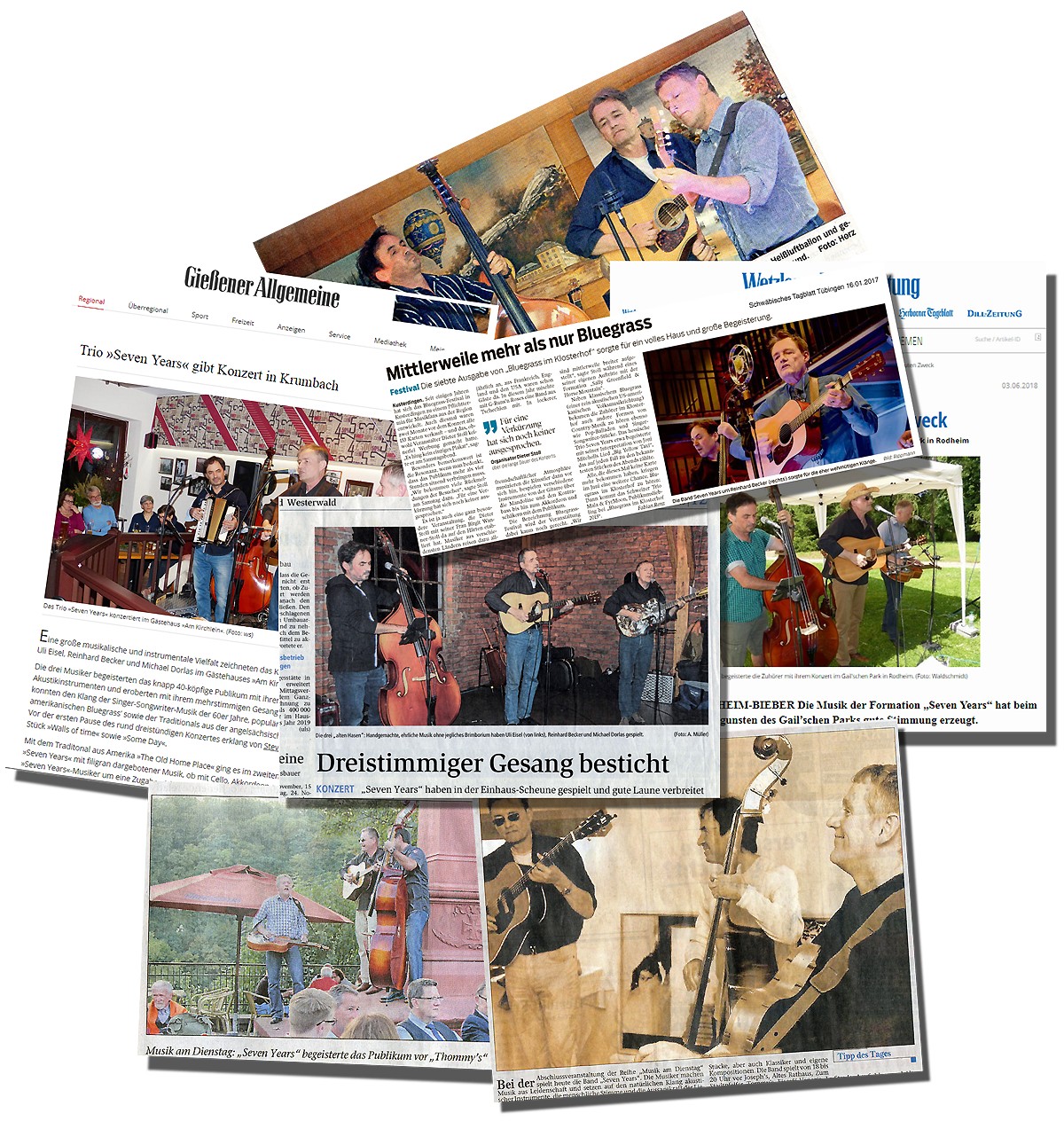 Our live-CD
2016: Now we've got the first Seven Years CD. It is a live recording done during a live gig in November 2014 except two tracks that have already been recorded in 2013. We did a multi track recording and there was a lot of effort doing mix and mastering so the CD provides a great sound. The digipac packaging offers as much of a vintage "album feel" as possible in the digital age. Playing time a bit more than an hour.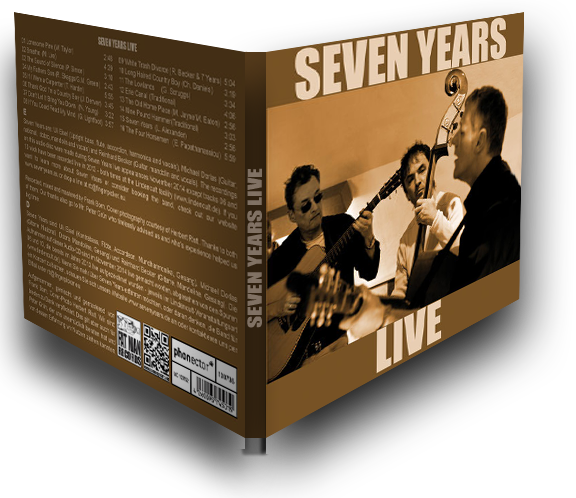 01.03.2019: A lot of new recordings have accumulated, including the slowly inreasing number of own songs until now and it would not be very far fetched to assume there will be annother album in due course. Now that we've been on our way for seven years the motto could be: Seven years seven years. Who knows … and who knows what it will look like…