Who we are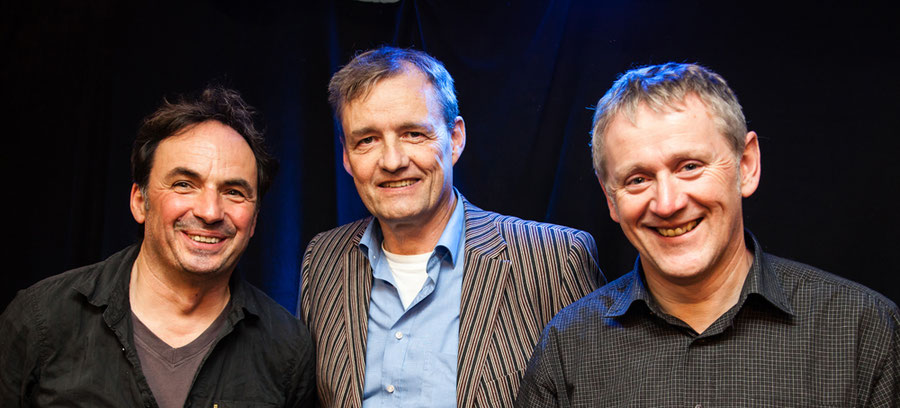 Left to right: Uli Eisel, Reinhard Becker, Michael Dorlas

Uli Eisel
Upright bass, harmonica, flute, accordion and vocals
Uli is a highly respected and admired minority at Seven Years because he is the only one who has the capability of sheet reading and even sheet playing or singing music. Inherently a piano man with a tendency to weird notes he calls "Jazz" but fortunately a Jack of all trades he does singing and playing everything with keys, all sorts of buttons, strings or apertures to blow into. If necessary he will play a tune he does not know right away: Just place a sheet in front of him.

Reinhard Becker
Six- and twelve string guitars, mandolin and vocals
Reinhard started playing the guitar when he was "around 14 years old". He did not take any lessons whatsoever but heard his musical heroes of those days – Donovan Leitch and Bob Dylan – on an old monoaural record player and learned their way of playing and singing just by imitating. He played in several folk- country and bluegrass bands in the sorrounding area. There was a short interlude of german new wave in the early 80s but hey: Everybody should get a second chance!


Michael Dorlas

Dobro, National, Guitar, mandolin and vocals
Michael started playing guitar when he was "just around 14" too, did not have any lessons either und as well learned and still presents new songs after having studied them by listening. Michael also played with a couple of formations and bands in the vicinity covering folk, country music and bluegrass. Besides playing the guitar he also played mandolin there and took the plunge into dobro playing. Today resophonics are his main instruments.